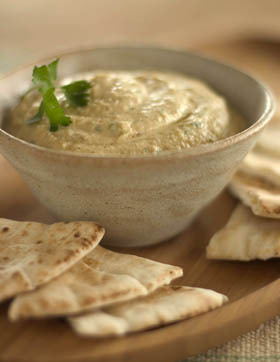 Makes about 3 cups
1 can of garbanzo beans
1/2 cup water from canned garbanzo
1 1/2 tbsp Tahini
1/2 Lemon (juice)
1 small clove of garlic
1/4 medium sized onion
1/4 cup fresh parsley
1/4 cup fresh cilantro
1 tsp sea salt
1 tsp cumin
When you buy canned garbanzo beans the ingredients should only be beans, water and salt for healthiest results. Whole Foods house brand is cheap and good.
Keep some of the water from the canned garbanzo to make the hummus smooth and creamy when running it in the blender.
Eat with pita chips/bread, in a wrap, as a dip for your veggies or on a salad.